Nutrition Facts for Maple Syrup
---
Maple Syrup provides several essential nutrients.
The vitamins and nutritional minerals in 100% pure Maple Syrup from Québec contribute to the maintenance of good health. One 60 ml (1/4 cup) serving of Maple Syrup contains 72% of the daily nutritional requirement of manganese, 27% of riboflavin, 17% of copper, and 6% of calcium.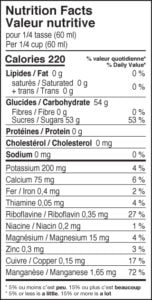 One 60 ml serving of Maple Syrup contains 78.2 mg of polyphenols.
---
Maple Syrup provides several essential nutrients. It's considered a source of calcium, a good source of copper, and an excellent source of riboflavin and manganese.
Maple is Unique
100% pure Maple Syrup from Québec has 67 different polyphenols, nine of which are unique to it. One of these polyphenols, called Quebecol, is naturally produced when sap is boiled to become Maple Syrup.
Like the World Health Organization (WHO), the Fédération des producteurs acéricoles du Québec supports the moderate consumption of sugar. WHO recommends a daily intake of added sugar not exceeding 10% of daily energy intake, an average of about 2,000 kcal. This represents 50 g of added sugar or 37.5 ml of Maple Syrup, a little more than 2 tbsp.
Nutritionists
---
Nutritionists concern themselves with the impact food has on human health, and some recognize the nutritional value of 100% pure maple. Maple from Québec is proud to be associated with two nutritionists who acknowledge the benefits of this natural product and wish to share the information with all who care about health and wellness. Find out all about them and how they fit maple into their daily lives as part of a healthy diet.
A source of natural energy
Maple syrup is a natural source of energy. Check out our recipes for food and drinks before, during, and after exercise.